Contributed by:
Home Grown Hero
Submitted: 10-07-2003
Images archived
How can I hang an adjustable reflector in a box-grow?
This if for those who have a small area or box that is made of wood, dry-wall, or other material that can use screw or bolt attachments. There may be the possibility to use silicone or Hard as Nail to glue the thin shelf upright into place, however I dont know how much weight it would hold. Also, the shelf support will need to be tapped into place to secure any adjustment.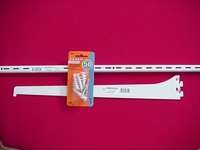 Here you can see all that was purchased. Not seen is a screw driver and screws. This little project cost me $7 US from a home improvement store and the materials were found in the shelving department. I needed a box of self-drilling drywall anchors, because the walls of this grow chamber are drywall. If you have solid wood or even plywood, you will not need these.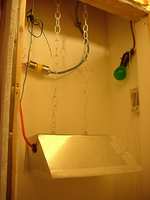 Now you can see that the hood is hanging from the ceiling by chain and causing plenty of congestion with wires and such. My goal is to clean this mess up a little and minimize the movement and noise of the light hood when it hits the walls inside the box from the fan that constantly runs.
Measure, center, and install the shelf upright.
The shelf upright I am installing is 24 long and the grow chamber is 12 deep by 24 wide. (1) Measure your micro grow area and mark the center near the top and bottom of the projected shelf upright length. (2) Attach upright with screws or bolts.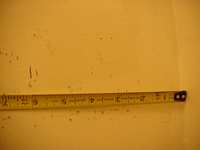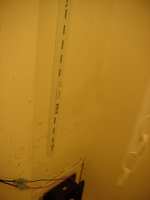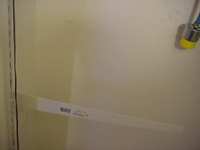 The horizontal shelf support used here is 16 long. (3) Lightly tap the support into place at the desired height.
Attach Reflector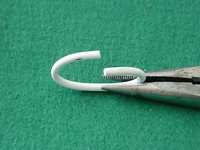 After more stoner ingenuity, I used a couple of links off of the chain I discarded. There is enough left/right movement with this set-up, so you can make more adjustments.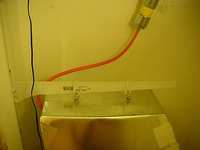 Just slide the light hood into place and you are done. This took about 5 minutes maybe longer because I stopped to burn one while deciding how I would attach the reflector to the support so that it could slide.
I also put a bead of type II silicon around the edge of the home made reflector; because it was marking up a fresh coat of ultra bright white flat latex paint.
Here is the finished product!